Chen Mei Yen, Founder and CEO of Presotea. /Photo provided.
How Presotea plans to build a global bubble tea empire
The brand is known for adapting the espresso brewing process for tea.
Presotea's unique tea brewing methods were born from taking a common espresso machine and adapting it to be used for tea leaves and it was interest in this unique brewing method that first laid down the foundation for the brand's bubble tea empire.
During the Taiwan Franchise Expo in 2012, a Taiwanese businessman working in Australia was visiting the country in search of a new business opportunity when he saw the tea brewing machine Presotea created. It extracted the tea from tea leaves using the same methods an espresso machine used for coffee.
He was intrigued and this marked Presotea's first international franchise deal.
Presotea's beginnings
Before that random encounter with a Taiwanese businessman, Presotea was founded by Chen Mei Yen and her husband, a fifth-generation owner of a factory that processes tea and creates raw materials for bubble tea products in Taiwan.
The brand is one of the first to try to pressure brew tea leaves and boasts a brewing time of 60 seconds and combines with fresh fruit and milk tea flavours such as Panda Pearl Milk Tea and Signature Fruit Tea. The name Presotea was inspired by the word espresso.
During an interview with QSR Media, Mei Yen recalled how one fateful trip to Italy gave them the idea for espresso tea.
"During a trip to Italy, I saw how a cup of freshly extracted espresso was made and the idea of adopting that speedy brewing method using a tea bag and a machine similar to that of an espresso maker would be a game changer. From there, my husband and I started to plan on how to make this idea come true. We did a lot of research and development and the result was the machine we are currently using," Mei Yen said.
When Presotea first started to compete with other bubble tea brands, it had to contend with problems like brand awareness and lack of locations. It also needed to make an extra effort to fine-tune the backbone of its brand, the espresso tea machine to create the perfect tea extraction parameters.
"Overall, the high initial investment costs of this new business and various other factors were very challenging during those initial stages, Mei Yen said.
Expansion
When their first international partnership was signed in 2012, Presotea had to figure out many things, from exporting raw food ingredients and raw materials to working with international teams and letting others learn about Presotea.
The company had to develop several strategies. For example, since Presotea has a history of manufacturing, they built their own professional certified tea processing and food ingredients factory that is wholly owned by the parent company.
The factory makes Presotea's product range and supplies the same for overseas franchisees. It also created a professional R&D team to customize and create new products that would cater to local tastes in international markets.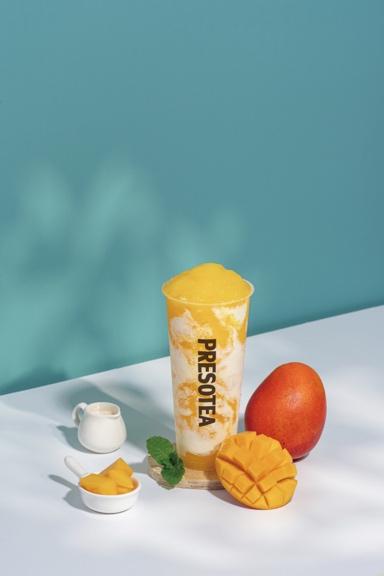 "For example, Canadians are particularly fond of fresh fruits, so the headquarters and the local franchisees jointly developed a mango slush that suited the taste of the local customers and specially blended a mango slush with a tea flavour, which was a great success in the market after its launch," Mei Yen said.

The brand is also active in joining food shows like the Taiwan Franchise Expo where it saw its first international deal, to create more brand exposure.
Presotea also utilised a fully digital online training programme to make it easier for franchisees to train staff with Presotea's methods.
Dominating the market
Presotea has over 400 outlets around the world, with 120 of them in overseas markets such as Australia, Canada, and the US.
Mei Yen said she expects competition in Asia to heat up, especially as the growth of bubble tea in China, considered to be the world's second-largest economy, has started to slow down. This means bubble tea players are starting to set their sights on Southeast Asia, where the market is estimated to be worth around $4b.
"According to the research, the global bubble tea market size was valued at $3.27b in 2022 and is anticipated to reach around $6.14b by 2032," she said, noting that 37% of this market in 2022 is the Asia Pacific region. "That's why we believe that the market size of bubble tea in Asia is vast and still has more room to grow."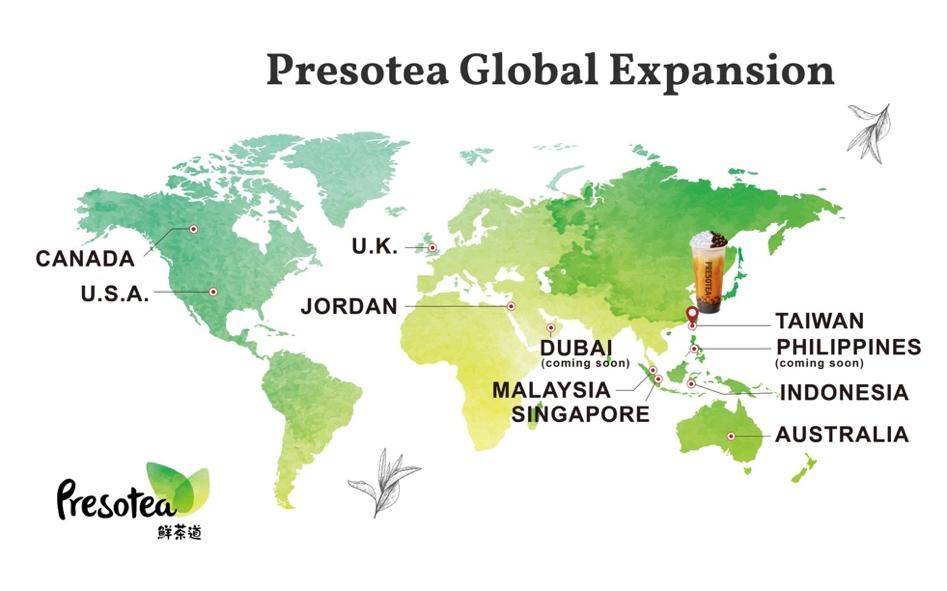 Mei Yen believes that despite more competitors, Presotea will still remain stand out especially because of their unique business model.
She stressed that Presotea has its own tea farm which lets them leverage their tea-making factory. This lets them ensure that the ingredients for their brand are top quality.
"We are also the biggest company in Taiwan that partners with smallholders, with a tea farm sized at 500 hectares to ensure a steady supply of premium-quality tea leaves. At least 73% of the ingredients used in Presotea's products come from the parent company-owned factory to uphold quality consistency for consumers," she said.
Additionally, unlike most bubble tea shops, where tea is brewed in bulk in advance, Presotea brews each tea made-to-order right in front of customers.
Future plans
Presotea is aiming to have 600 outlets by 2028. They recently entered the Middle East, setting up in Jordan and Dubai. Meanwhile, they also plan to grow their brand in Canada, which already has 67 outlets, and the United States, which has 27.
Mei Yen said their next target is Europe and Central and South America.
To achieve this, she said they will be experimenting with a single-unit franchise business type to lower investment barriers for potential franchisees.
They also formed an HR professional team to select, educate and train employees based on their talents to serve overseas franchisees and develop the worldwide network mindset.
"Although tea is the main product of Presotea, the overseas stores would follow the local tea drink trends, and customers' favourites and make the necessary changes to fit in with the local cultures and habits, rather than just copying the products from Taiwan," Mei Yen said.
In closing, she expressed confidence in the brand's competitive advantage on a global scale. "Presotea's R&D team is very strong, and many of our menu items can be adapted to suit the tastes and sensations of local customers, especially in terms of their preferred visual style and sweetness," she said.